Morning Strength cancelled

Pilates      Fridays Noon - 1 pm
Improves flexibility and strength for the overall body.
More than just exercise, The primary focus is on strengthening the core postural muscles - the deep muscles of the abdominals, low back and pelvic floor.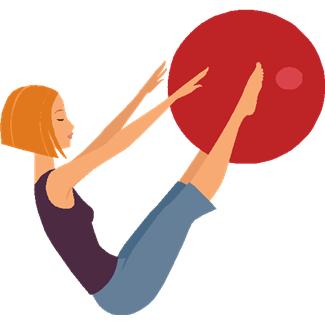 Sandi's Pilates class may be part of your regular Flow yoga class card or A Special Pilates Class Card Option is available   $10 per class or 5 classes for $40 (cash price add $3 for credit/debit card)  
All Flow Class Cards - no refund for unused classes                         
_____
Yoga Anatomy Workshop
December 6 & 7, 2014       9 am – 6 pm
We are complicated and complex  beings, we all know the thigh bone is connected to the hip bone.   But, are you aware of the lines of energy that are engaged in a yoga pose? Do you understand energetic alignment as well as physical alignment?  Yoga history from a movement/anatomy perspective, and injuries common today?
Saturday: The body, bones, muscles, joints, tendons, ligaments, organs. Human anatomy, physiology and kinesiology.
Sunday: Functional application to yoga. Alignment, muscle activation etc.
Saturday: $75.00 (8 CECs)    Sunday: $75.00 (8 CECs)                                           Or Entire Weekend: $125.00 (16 CECs)  CEC's for 200 or 500 level
Jivapatha School of Conscious Yoga at House of Light Yoga, Spring Hill

www.houseoflightyoga.net
Taught by Faith Bevan, E-RYT 500/PYT with a Masters in Medical Science, and BS in Sports  Medicine, has over 17 years working in medical practice  in addition to a 30+ year history in fitness.  She is the founder of Mind, Body and Modern Medicine, an Integrative Medicine Practice blending the Western Technology with the Eastern Wisdom.
Dr. Jay Miller DC, DACNB, RYT 200,  is a chiropractic physician and board certified chiropractic neurologist.  Obtaining over 1000 hours of formal anatomy training while attending Palmer College of Chiropractic. He has been in private practice in Pasco County for 25 years with a focus in functional medicine, and has been practicing yoga for 8 years.  Graduated from Yoga Teacher training 200 hours in 2012 from the Lotus Pond and is currently enrolled in their RYT-300 program.
__
Kundalini Gong Immersion
Friday December 12  at  6:30 pm



Join us for a Kundalini Yoga class for all levels; breathwork, movement, mantra, meditation, and 30 minutes of the Gong, bathing you in its symphonic vibration and sound.

After class enjoy some Yogi Tea and Cookies.
a $10 Love Donation is Appreciated. 

In Kundalini Yoga the most important thing is your experience.  It goes right to your heart. No words can replace your experience. Your mind may accept the words or it may not, but the consciousness will not accept just words        Yogi Bhajan
__

Retreat  to a Restorative Yoga Treat  Saturday   December 13     2 - 4 pm
Restorative yoga provides physical, mental and emotional relaxation.  The best Christmas Gift you can give yourself!

Restorative yoga provides healing for the body and the mind. Helps to eliminate fatigue and stress and can also help us recover from illness and injury of the mind and body.
While releasing in your supported posture, our licensed massage therapists will gently milk and melt any residual tension, tightness or troubles away with gentle massage and assisted stretching.
 Massage lowers your blood pressure, increases circulation, improves recovery from injury, helps you to sleep better and can increase your concentration. It reduces fatigue and gives you more energy to handle stressful situations. 
Join us for this special 2 hour retreat.  Whether you want to relax and find calm or are looking to learn some techiques you can use for yourself in your eprsonal practice or to help others.

Presented by Lamor Silas, E-RYT 200
$35 per person before December 13 to reserve your spot as space is limited
$40 at the Door but space is limited so reserve ahead

A Love Donation for our Massage Therapists is Appreciated. 
For Information Please Contact Us 
Contact Form